STEELE BENEFIT SERVICES is a family owned business located in Indianapolis, Indiana founded by Mike Steele in 2000.  We help companies with employees throughout United States communicate, enroll, and administer employee benefits.
Our Purpose
We help America's workforce be prosperous.
Our strategy to accomplish this includes providing a world-class benefit communication, enrollment, and administration experience.
Our Values
We serve as an extension of the employers' HR department. We do this while staying true to our core values that include being helpful, responsive, team oriented, trustworthy, and genuine.
Our Uniques
Employers have many options who to work with, but there are certain things that make Steele a unique fit.  Those things include:
Choice of enrollment method – choose call center, self service, or on-site; or combine these methods in a hybrid combination,
Low cost – our costs for service generally are mitigated because we have an income source from the insurance companies we work with (not just our clients),
Simple & easy to do business with – we have a flat corporate structure and our employees are doers. It's not uncommon for our Clients to have direct access to department directors, or even our CEO.
Our Promise
We guarantee satisfaction with our service.  In the event you're not satisfied and wish to cancel service, we will allow you to terminate your service with Steele with 90 days notice, and we'll provide you the data you need to transition to your next provider.
Steele Testamonials from Wes Steele on Vimeo.
Selerix benefit administration software configuration and support.
Affordable Care Act reporting and filing  services.
Enrollment support by call center and/or on-site support.
SMS (text) messaging, quizzes, surveys, e-mail, posters, and/or video.
Sign Up For Our Newsletter
Get great deals sent directly to your inbox!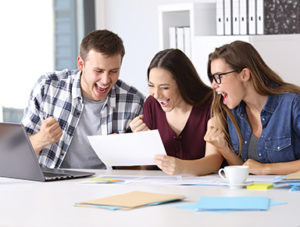 Insurance Employees Need in the new COVID-19 World As fears about the rapid spread of COVID-19 shake our lives we are making changes to our daily routines to protect ourselves. New practices such as wearing face masks, social distancing, increased hand washing and using sanitizer help us to reduce the chance of contracting and spreading…