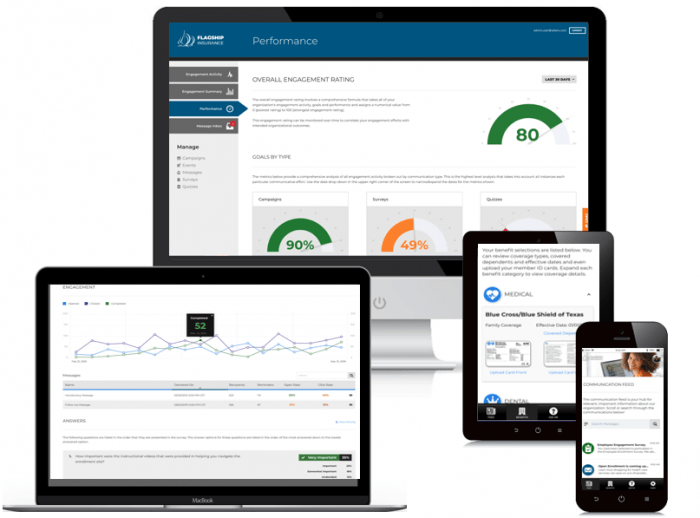 In today's job market, you need powerful and consistent communications with your employees to win their retention and loyalty. Engage does just that and more.
So how exactly can Engage support your business? In what ways can Engage keep your communications relevant and improve your employees' general perception of your company? These four methods will tackle these topics and push the odds in your favor!
1. Segmented Audiences
One of the most powerful features available with Engage is the ability to push targeted messages and content using segmented audiences. Sometimes you might need to laser-focus your communications to a specific demographic in your audience pool. Sort and segment your audiences with ease using metrics like age, gender, location, benefit eligibility, enrollment status and more.
Let's say hypothetically you are looking at health plan utilization data. You discover that in most instances employees on the PPO Plan would actually spend less money if they had a high deductible health plan. Using the segmented audiences feature, you can send targeted communications to all employees who are on the PPO plan with educational material on why a high deductible health plan might actually save them money!
2. Preset Messages, Campaigns and Announcements
Engage is a communications solution that provides your audiences with predetermined and prescheduled messages, campaigns and announcements in multiple formats.  Available formats include e-mails, text messages and mobile push notifications with digital landing pages.
An example of an Engage admin homepage.
This is powerful during open enrollment season for employee benefits, for example, because it paves the way for ensuring every employee gets the correct information they need when they need it. Not only that, but having the ability to preschedule your engagement pieces with a segmented audience allows you to target messaging to only employees who have not yet completed enrollment. This way, a busy HR department won't need to worry over employee follow-up because their employees are already getting the relevant content they need.
3. Real-time Communications and Metrics
Engage provides users with detailed insights that will precisely point out which campaigns are performing as anticipated and which ones aren't based on any goals set prior to launch.
Engage metrics at your fingertips.
The information users can pull from Engage's data tracking can be used to determine the most effective communication strategies for reaching their employees. For example, user will be able to see how many employees opened the communications sent out, see how many employees clicked on provided links or attachments, and use those metrics for refining future communications pieces!
4. Triggered Events
Last, but certainly not least, are triggered events and messages. Preset campaigns, real-time metrics and segmented audiences can already do incredible things to elevate your organization's infrastructure, but triggered events is the cherry on top.
Whether it is setting up heartwarming "congratulations" message after an employee adds a new member to their family, or something as complex as making an entire digital onboarding journey for new hires, automated events in Engage can save your business weeks of work.
Through triggered events and more, your organization can stay constantly and consistently connected with your employees.
Learn About the ROI Story for Your CFO
Dive deeper into the details of how Engage transforms the way your business handles communications and see the ROI story on investing in Engage ❯