SteeleTech™
SteeleTech from Wes Steele on Vimeo.
SteeleTech™ is designed for the employer that is ready to eliminate paper from the open enrollment process.  We configure, train, and support Selerix benefit administration software, a national platform with millions of people already using it.
While reasonable in cost, SteeleTech™ still includes robust functionality that an employer will need, including:
an employer administration site
an employee enrollment site
data feeds to insurance carriers
life events administration
billing and reporting
The employer who selects SteeleTech™ can administer complex needs such as spousal surcharge and carve out, tobacco distinct pricing, and complex eligibility and voluntary benefit offerings.  You will love SteeleTech™ if your primary goal is to have one database for benefits administration.
Communicate With Employees In a whole New Way
When employees understand benefits, they stay loyal.  The Engagement Module empowers benefits departments to create a unique employment experience for your workforce.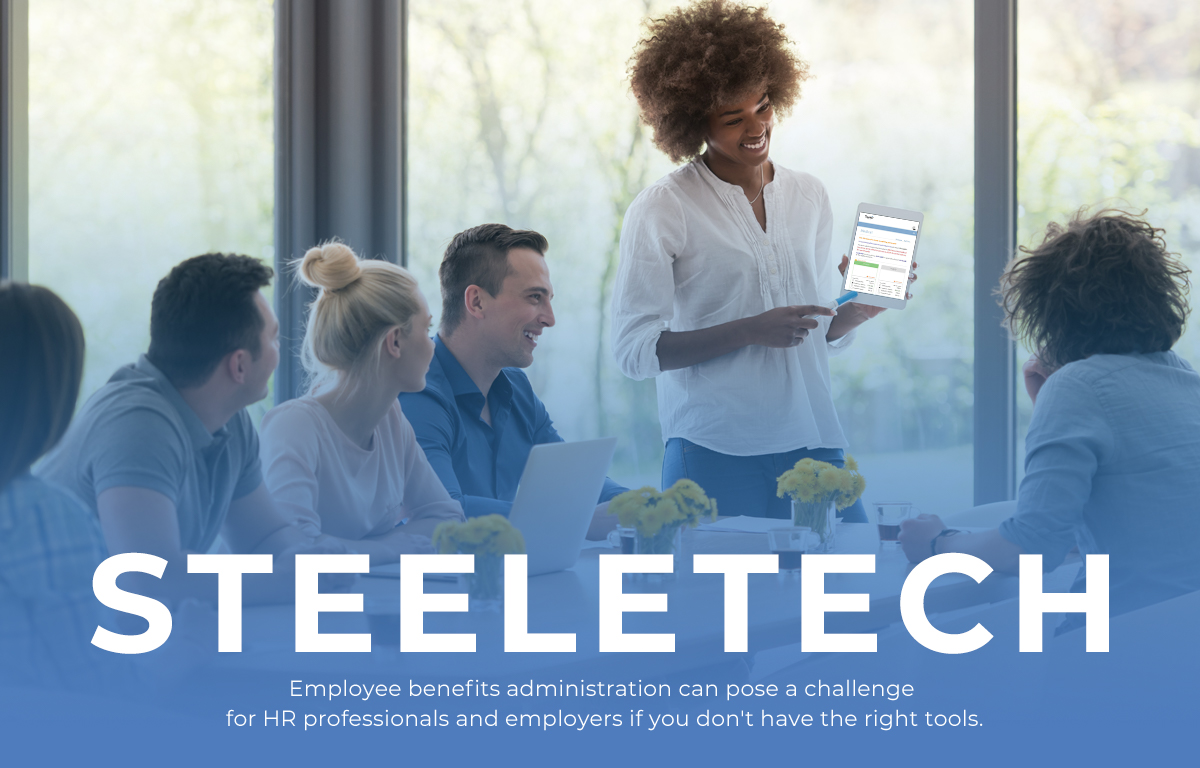 Employee benefits administration can pose a challenge for HR professionals and employers if you don't have the right tools.

Duplicate entries waste time, and therefore, money.

Employee benefits can "live" in different places.
COBRA compliance is vulnerable to human error.

Get rid of outdated benefits administration processes. Steele Benefits can help.

New hires, open enrollment, status changes, and terminations are hard to manage.
Our SteeleTech platform is designed to streamline benefits management for employers. STEELEBENEFITS.COM
Assessment Phase
During the Assessment Phase, we'll discuss the capabilities available. We'll review what services are included in each of the Steele service bundles, and review the cost of each service level. The Assessment Phase concludes when you select your desired service bundle and schedule your Kickoff meeting.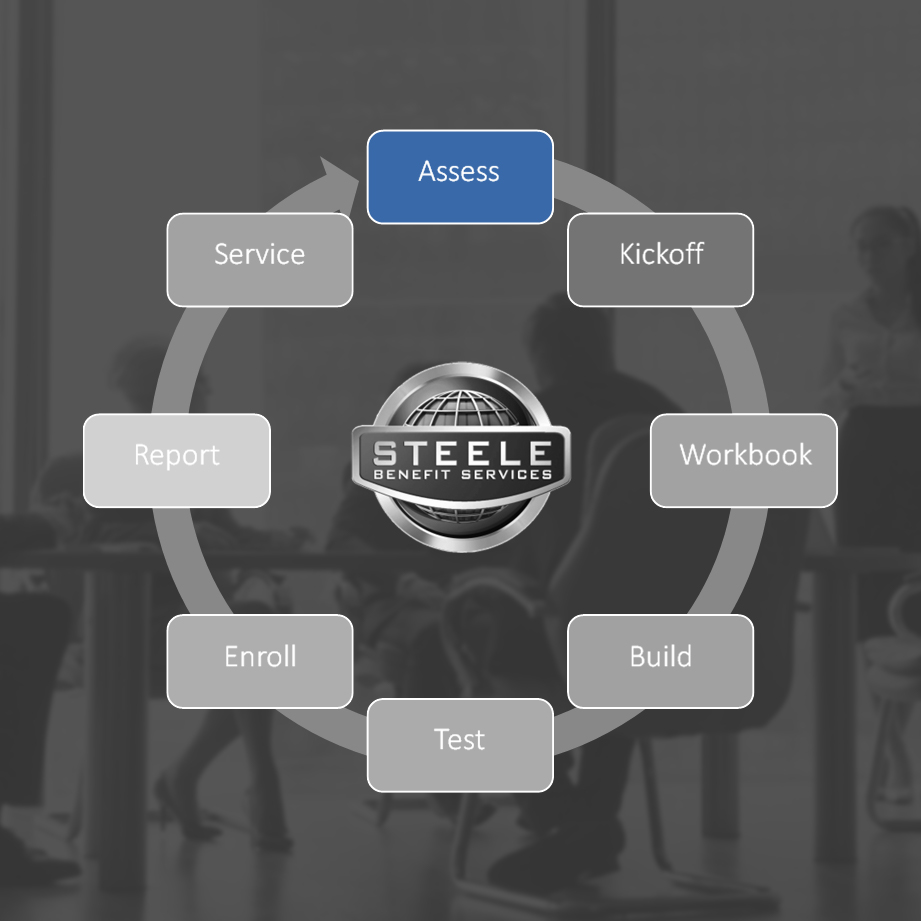 Kickoff Phase

During the Kickoff Phase, you'll be assigned an Account Manager. Your Account Manager will quarterback your experience with Steele before, during, and after your implementation. The Kickoff Phase is about planning your experience with Steele through your next insurance renewal. Typically, we start your Kickoff at least six to twelve weeks before your enrollment, and around three to four months before your next renewal date. The Kickoff Phase includes data collection from the employer, and from your carriers.
Workbook Phase

While the Kickoff Phase includes data collection, the Workbook Phase is focused on data organization. It is during the Workbook Phase that we organize the eligibility and plan rules, evaluate the data we're getting from carriers, as well as the data we're getting from the employer. Steele does not proceed to the Build Phase until all parties are on the same page about the work happening over the next couple of months. The Workbook Phase wraps up when Steele Account Management meets with Steele Technology, and there is an internal consensus that everything needed for a successful enrollment has been collected and organized.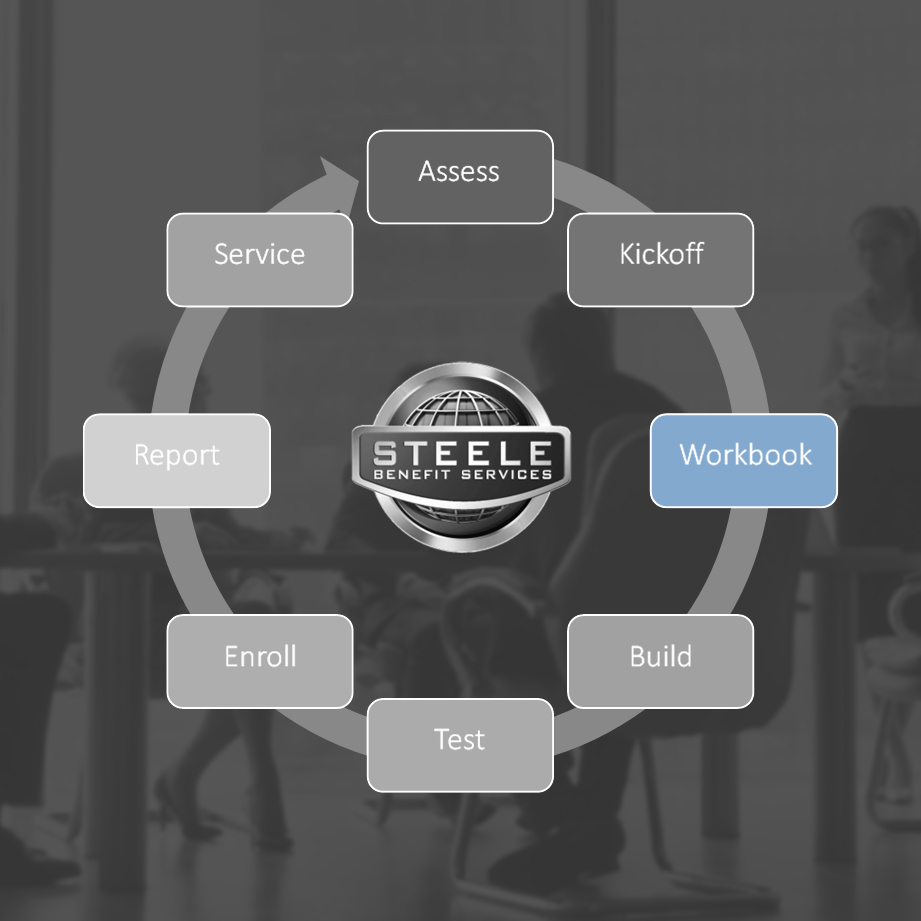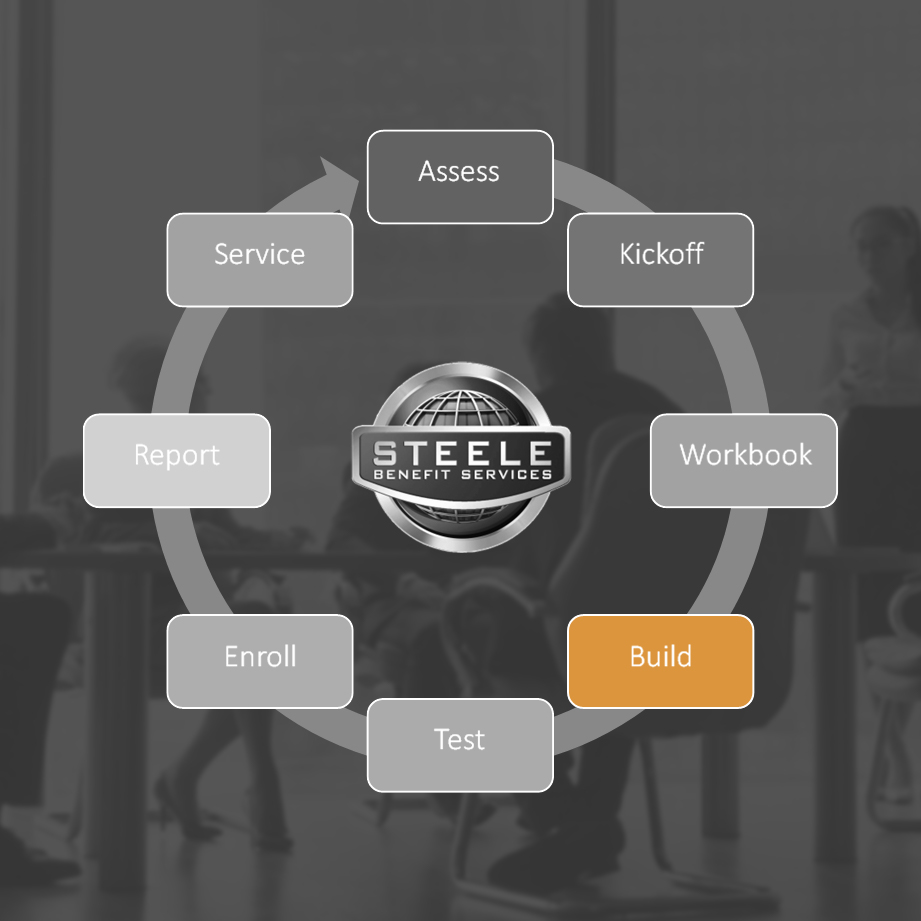 Build Phase

The Build Phase is when Steele brings your technology to life. If you're an existing client of Steele, we're updating for renewal changes. If you're a new client, we're building your technology from the ground up. Steele focuses on making sure that employees have a simple and easy enrollment experience, and we're bringing to life the plan that has been outlined in the Workbook Phase.
Testing Phase

The next time we build perfect materials without any feedback, it might just be the first time. That's why testing is so important. An employer with six job classes — let's call them Executive, Salaried, Hourly Full-Time, Hourly Part-Time, and Detroit Union — is going to have 20 different sets of rates just for medical, dental, and vision. Not to mention what they're supposed to see on basic life, voluntary life, disability, critical illness, etc. There are hundreds of items that need to be checked before every launch. The testing phase is all about finding opportunities to enhance the site, and making changes before enrollment launches. Notably, pre-communication should be happening during the testing phase. Here's when you send your texts, videos, fact sheets, e-mails, etc. that say "open enrollment is coming soon!"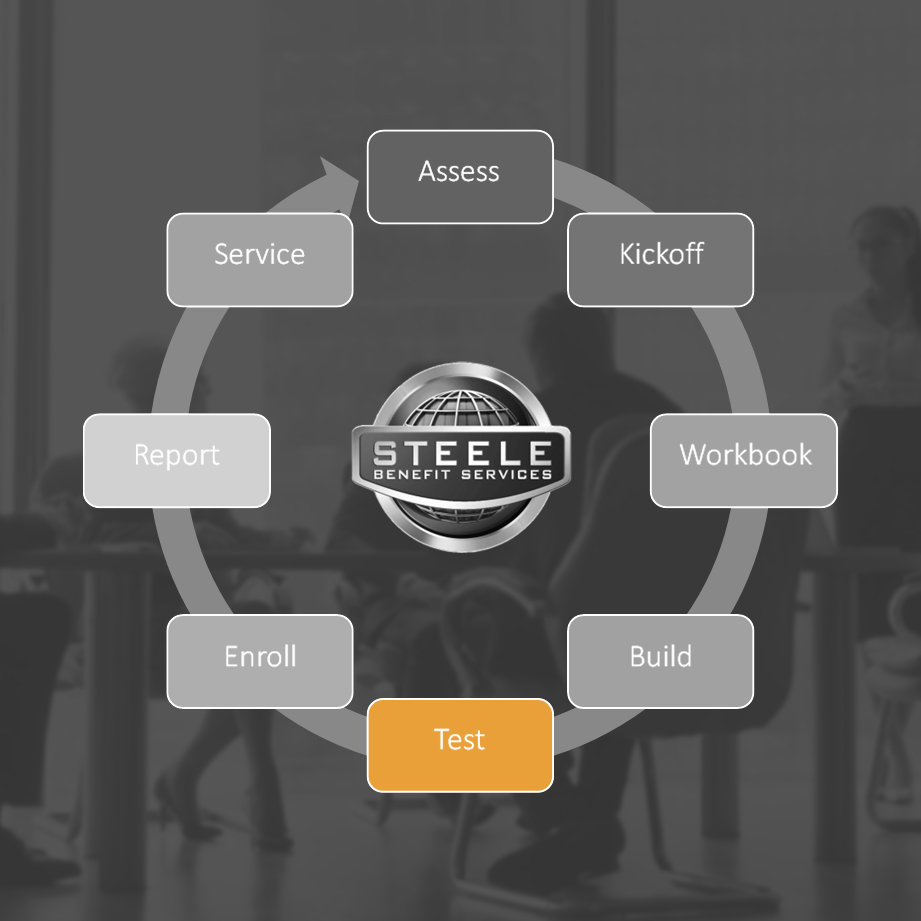 Enrollment Phase

You've built your plan, data has been collected and organized, a site has been built, pre-communication has gone out, and the site has been tested. Open enrollment has arrived. Send more communication: texts, e-mails, meetings, etc. There is no such thing as too much communication during open enrollment. Employees are enrolling in one of five ways — they're enrolling on-site one-on-one, by the call center, self-enrolling on a computer, on a tablet, or on a cell phone. As the open enrollment nears a close, the employer can send emails and texts reminding employees to enroll. Generally, employers that value active enrollment see over 90% of their employees go through open enrollment.
Reporting Phase

Enrollment is over. Whew, that was a whirlwind! But the work isn't over yet. The good news is the enrollment data is now well organized. Employees are satisfied with your simple and easy enrollment processes. But, the enrollment data needs to get out of Steele and to you for payroll. And get to your carriers, so your diabetic patients can get their insulin on January 1. Steele is here to help, and does much of the work for you. We have a very high success rate working with your carriers to get eligibility loaded, and working with employers to provide deductions in a format where the employer can import it.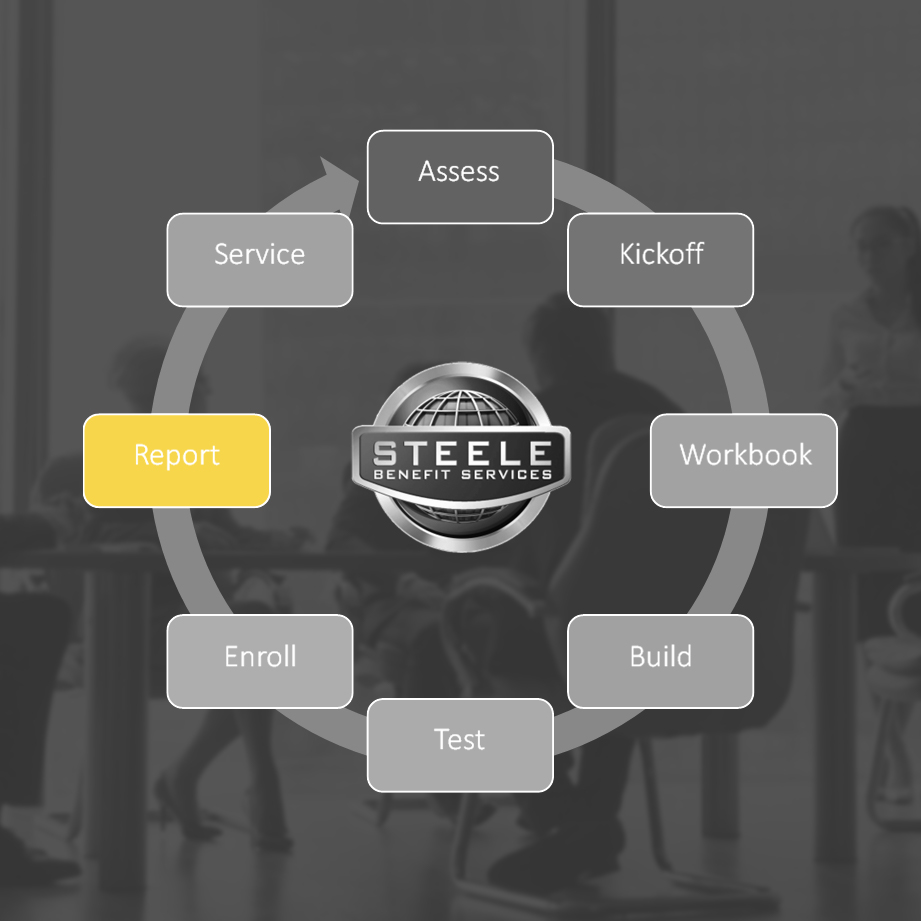 Service Phase

The Service Phase is a favorite at Steele. We've launched services with a certain setup, but now we've been through an enrollment. First, there's training. We help the employer understand how new hires are added, how life events get processed, and how terminations get processed. Also, how are deductions getting updated? What recurring reporting does the employer need? Additionally, where are there improvement opportunities? Maybe it's site aesthetics, or maybe it's adding decision support. This is also a great time to add the Communications Module if you haven't already. How about an employee survey, and some drip campaigns throughout the year sharing details of your benefit plans? What happens about eight months into the service phase? Another Kickoff!
Selerix benefit administration software configuration and support.
Affordable Care Act reporting and filing  services.
Enrollment support by call center and/or on-site support.
SMS (text) messaging, quizzes, surveys, e-mail, posters, and/or video.
Want to learn more about the Engage Bundle, explore one of our other benefit management service bundles, or receive a free proposal? Click one of the buttons below and our team will set to work answering your questions or getting you a free proposal!
Sign Up For Our Newsletter
Get great deals sent directly to your inbox!
EMPLOYEE BENEFITS COMMUNICATION COMPANY STEELE BENEFIT SERVICES ANNOUNCES THAT ALL EMPLOYEE BENEFIT ENROLLMENT WILL BE VIRTUAL FOR THE REMAINDER OF 2020 Steele is a professional services company specializing in employee benefits enrollment   [INDIANAPOLIS, INDIANA, May 11, 2020]  Steele Benefit Services (Steele) is announcing that effective immediately all employee benefits enrollment will be virtual for…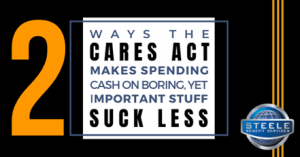 Swimsuit shopping, oof! Is swimsuit shopping anyone's "thing?" As a fair-skinned mid-western that loves SPF50, health savings accounts (HSAs), cold beer and tacos, I speak with conviction when I say shopping for beachwear is not my favorite. So, imagine this Hoosier's surprise when a day of swimsuit shopping turned into the best retail day ever!…
Open Enrollment After COVID-19 from Wes Steele on Vimeo.
What Our Clients Have to Say
Perfect!!!! You have saved me so much time!
- Megan Bell, Chief Financial Officer, New Castle School Corporation
Thank you! You do not know how much of a relief this was to not have to do this filing! You all are awesome.
- Dana Ochs, Payroll Officer, Jennings County Schools
Thank you, for all your help with this. This was a major help for me that you completed it. I am so very thankful you were able to complete this for Paoli Community School Corp! 
- Cindy Eubank, Deputy Treasurer, Paoli Community School Corporation
Mike – you the man – thanks for both the great work and getting permission to share the satisfaction!
We love the system and all it can do.  We love the quick response for Mike and Melissa on everything we need.  I wish all of our vendors were as thorough as Steele!
- Jill Britt, Director of Human Resources, Franklin Township Community Schools