STEELE BENEFIT SERVICES is a benefits engagement, enrollment, and administration company headquartered in Indianapolis, Indiana.  The company has been in business for decades, and helps companies with employees throughout United States.  We connect employees with the benefits they need to live prosperous lives.  When employees understand the benefits offered by their company, employees tend to be more loyal and productive.

Make an Impression on New Employees

When you utilize our Employee Engagement service, you can communicate automated communications by SMS (text message) and other mediums.  Just think – how is your new employee going to perceive your company when you get professional welcome messages to their cell phone, invitations to enroll in your benefit plans, an opportunity to talk to a benefit enroller, and the ability to self enroll online on an easy to use on-line enrollment portal?

Engage Employees Year-round

What is it that you most want to communicate to employees?  Is it an on-site clinic?  Available flu shots?  Free wellness through your medical plan?  An employer match to health savings accounts?  Celebrate a birthday or a work anniversary with your employee?  Using the Employee Engagement service, you can design campaigns that drip out through the year and help employees understand why you are a great place to work.  You can filter your audience so that only employees eligible to receive communications get them, and your audience lists get updated in real time as employees get promoted, change locations, update the benefit plans they participate in, or terminate their employment.  Your new hires are automatically updated to your campaign lists as they make their benefit selections in the benefits administration technology.

Bi-Directional Communications

With the Engagement Service from Steele, employees can engage with HR and Benefits departments as well.  "askHR" enables employees to ask questions of their employer through the engagement app.  Employees can also interact with HR and benefit departments through surveys and quizzes as well.
Want to know more about how we can engage employees during benefit enrollment?  You can find that here.
Selerix benefit administration software configuration and support.
Affordable Care Act reporting and filing  services.
Enrollment support by call center and/or on-site support.
SMS (text) messaging, quizzes, surveys, e-mail, posters, and/or video.
Sign Up For Our Newsletter
Get great deals sent directly to your inbox!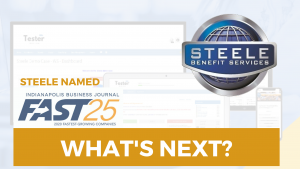 In Steele's 20th year in business, IBJ has named Steele one of the 25 fastest growing companies in the Indianapolis area. "This is a team honor," CEO Wes Steele said "we're fortunate to have talented team members up-and-down the organization that contributed to earning this recognition." The IBJ article, which can be found here, highlights…
6 Ways to Engage Employees Wes Steele June 18,2020 Remember the stone age?  I'm talking about the decade of the 1990's.  Did you know Google wasn't even founded until 1998? The future of employee engagement is here.  Employers have wifi, and employees have smart phones.  So, why aren't employers doing more to communicate with employees…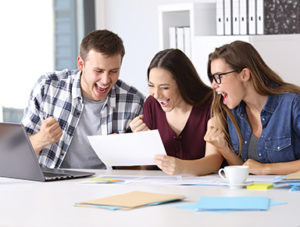 Insurance Employees Need in the new COVID-19 World As fears about the rapid spread of COVID-19 shake our lives we are making changes to our daily routines to protect ourselves. New practices such as wearing face masks, social distancing, increased hand washing and using sanitizer help us to reduce the chance of contracting and spreading…
What Our Clients Have to Say
Perfect!!!! You have saved me so much time!
- Megan Bell, Chief Financial Officer, New Castle School Corporation
Thank you! You do not know how much of a relief this was to not have to do this filing! You all are awesome.
- Dana Ochs, Payroll Officer, Jennings County Schools
Thank you, for all your help with this. This was a major help for me that you completed it. I am so very thankful you were able to complete this for Paoli Community School Corp! 
- Cindy Eubank, Deputy Treasurer, Paoli Community School Corporation
Mike – you the man – thanks for both the great work and getting permission to share the satisfaction!
We love the system and all it can do.  We love the quick response for Mike and Melissa on everything we need.  I wish all of our vendors were as thorough as Steele!
- Jill Britt, Director of Human Resources, Franklin Township Community Schools