STEELE BENEFIT SERVICES is a benefits engagement, enrollment, and administration company headquartered in Indianapolis, Indiana.  The company has been in business for decades, and helps companies with employees throughout United States.  We connect employees with the benefits they need to live prosperous lives.  When employees understand the benefits offered by their company, employees tend to be more loyal and productive.

There are many reasons why working with Steele makes sense for the finance department, and they include:

Accurate Administration

During implementation, we commonly find issues such as terminated employees that are still on employer paid plans, and sometimes they have been for years after their termination dates.  Working with Steele, it helps to ensure that you're only paying for people that are actually on your plan.

Improved Internal Efficiency

Before Benefits Administration Systems, enrollment was often on paper.  Benefits Managers often had to input the same data in 1) payroll, 2) a medical provider's database, 3) a dental provider's database, 4) a vision provider's database, and 5) a COBRA database.  Additionally, the benefits department is managing billings from voluntary insurance and employer paid lines such as life and disability.  Every time something changes (new hire, life event, open enrollment, and terminations), data has to be updated in each place.  Steele eliminates most or all of this.
Better Access to Your Employee Data
Easily understand the demographics of who you employ with a census report.  Run participation reports for collective bargaining purposes.  Run self bill reporting to understand all of your insurance carrier financial obligations out of one system.  Understand how participation changed in your medical plan after an open enrollment period.  Working with Steele gives you insight into what your employees are participating in, and how much it will cost.
Tool for Managing Cost Control Levers You Could Choose to Pull
Some levers you could pull to manage your benefits can be complex to administer.  For example, a spousal surcharge or carve out.  Or perhaps a wellness incentive with an impact on employee contribution amounts or tobacco distinct pricing.  We also have dependent verification resources, for example asking your employees to attest that their dependents are eligible to be covered, or asking employees to submit dependent verification through the employee enrollment site.
Reduced Institutional Risk from Turnover
Is there one person in your benefits or HR department today that you are wholly reliant on?  If this person left, it would be a bear for someone new to learn what you do, and how you do it.  The new person may never grasp why you do things the way you do.  By working with Steele, you'll document the way you classify employees and administer benefits.  In the event you had internal turnover, it's likely that much less institutional knowledge will be lost, saving you both time and money.
Effective Use of Your Dollars
Studies show that employees are happier with their benefits when the communication to employees is better.  This is even true if you're putting less dollars towards your benefits.  That means – if you're not communicating your benefits well, it's costing you the opportunity to have better appreciation.  Appreciation directly leads to increased productivity and increased loyalty.  Turnover and lost productivity both cost you money.
Selerix benefit administration software configuration and support.
Affordable Care Act reporting and filing  services.
Enrollment support by call center and/or on-site support.
SMS (text) messaging, quizzes, surveys, e-mail, posters, and/or video.
Sign Up For Our Newsletter
Get great deals sent directly to your inbox!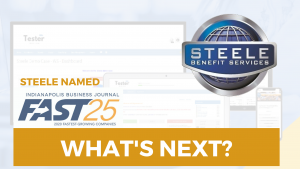 In Steele's 20th year in business, IBJ has named Steele one of the 25 fastest growing companies in the Indianapolis area. "This is a team honor," CEO Wes Steele said "we're fortunate to have talented team members up-and-down the organization that contributed to earning this recognition." The IBJ article, which can be found here, highlights…
6 Ways to Engage Employees Wes Steele June 18,2020 Remember the stone age?  I'm talking about the decade of the 1990's.  Did you know Google wasn't even founded until 1998? The future of employee engagement is here.  Employers have wifi, and employees have smart phones.  So, why aren't employers doing more to communicate with employees…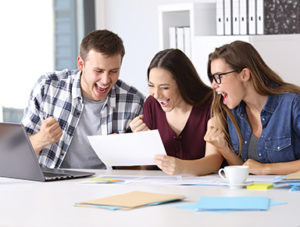 Insurance Employees Need in the new COVID-19 World As fears about the rapid spread of COVID-19 shake our lives we are making changes to our daily routines to protect ourselves. New practices such as wearing face masks, social distancing, increased hand washing and using sanitizer help us to reduce the chance of contracting and spreading…
What Our Clients Have to Say
Perfect!!!! You have saved me so much time!
- Megan Bell, Chief Financial Officer, New Castle School Corporation
Thank you! You do not know how much of a relief this was to not have to do this filing! You all are awesome.
- Dana Ochs, Payroll Officer, Jennings County Schools
Thank you, for all your help with this. This was a major help for me that you completed it. I am so very thankful you were able to complete this for Paoli Community School Corp! 
- Cindy Eubank, Deputy Treasurer, Paoli Community School Corporation
Mike – you the man – thanks for both the great work and getting permission to share the satisfaction!
We love the system and all it can do.  We love the quick response for Mike and Melissa on everything we need.  I wish all of our vendors were as thorough as Steele!
- Jill Britt, Director of Human Resources, Franklin Township Community Schools