It happens every year – open enrollment. Yet it is one the biggest challenges for employers to manage. It interrupts productivity and challenges your employees as they decipher their menu of options.
Offering attractive benefits packages positions your company as a desirable and supportive place to work. Employee understanding of the value of these benefits leads to longevity, loyalty and retention as part of your workforce – which gives you a healthier bottom line.
Instead, many companies struggle with mountains of paper enrollment forms, puzzled employees and an overtaxed benefit or HR department. This annual event is often the annual headache. Add onboarding and compliance and suddenly everyone is concentrating on getting through the process instead of thinking strategically.
It doesn't have to be that way. Steele Benefits has been streamlining, clarifying and meticulously managing the process for our clients for nearly two decades.
"Working with Steele, we had the easiest enrollment period ever. Normally I have employees calling all the time with questions I struggled to answer. Steele took care of that for me." How do you get the easiest enrollment ever? Talk to us. We'll help you identify your enrollment challenges and offer solutions to streamline, clarify and manage your employee benefits.We have a solution to fit your needs:
The way you manage employee benefits is about to change.
Enrollment Communication, Employee Paid Benefits Only, Open Enrollment Only
---
Do you just need voluntary benefit enrollment? We will help you identify the best carrier and plans for you based on your industry, culture, size and goals. Steele offers on-site one-to-one representatives and over-the-phone reps to help employees choose the best coverage for their situation...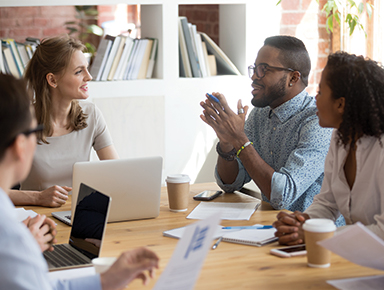 Enrollment Communication,
Employer and Employee Paid,
Open Enrollment Only
---
Benefits packages are a major component of employees' perception of their value to your company. Show employees you care about their financial security by communicating your overall benefits package. You likely wouldn't have time to meet with all your employees one-on-one, so we are here to help...
Enrollment Communication, Employer and Employee Paid, Year Around Enrollment, Technology & Compliance
---
Are paper enrollment forms clogging up your benefits department? How many hours are spent on data entry, form submissions and reports? Steele Enterprise Package eliminates your paperwork headache with online enrollment, automated IRS reporting, compliance and extras such as life event management...
Selerix benefit administration software configuration and support.
Affordable Care Act reporting and filing  services.
Enrollment support by call center and/or on-site support.
SMS (text) messaging, quizzes, surveys, e-mail, posters, and/or video.
Sign Up For Our Newsletter
Get great deals sent directly to your inbox!
As the first paychecks in 2016 have been issued and the new benefits plan year has commenced, many HR folks are going to get calls from employees saying, "My payroll deduction isn't right." I would submit that this is a very big deal. Even if a payroll deduction is off
What Our Clients Have to Say
Perfect!!!! You have saved me so much time!
- Megan Bell, Chief Financial Officer, New Castle School Corporation
Thank you! You do not know how much of a relief this was to not have to do this filing! You all are awesome.
- Dana Ochs, Payroll Officer, Jennings County Schools
Thank you, for all your help with this. This was a major help for me that you completed it. I am so very thankful you were able to complete this for Paoli Community School Corp! 
- Cindy Eubank, Deputy Treasurer, Paoli Community School Corporation
Mike – you the man – thanks for both the great work and getting permission to share the satisfaction!
We love the system and all it can do.  We love the quick response for Mike and Melissa on everything we need.  I wish all of our vendors were as thorough as Steele!
- Jill Britt, Director of Human Resources, Franklin Township Community Schools