Searching for that competitive edge with your benefits prospects?
Bring us alongside. Steele offers service packages you can present as value added services. Brokers, consultants, and insurance companies appreciate our role in helping employees to understand their benefits. Our technology and processes help employers manage their benefit offerings and streamline benefits communication, enrollment, and administration processes.
Your client needs help through open enrollment. Often the enrollment process disrupts workflow and productivity as operations pause for discussion on various plans and benefits. Bringing in the Steele team frees you up to think strategic while we clarify and simplify the benefit enrollment process.
Including us in your benefit offerings gives decision makers valuable insight into increasing plan participation, choosing suitable carriers and products, and efficient management of the administrative details. Brokers and advisors get credit and are appreciated for helping Clients implement a more successful program. We can help you win business while increasing your current repeat business without the intensive, in-the-weeds interaction with the end user employees.
Our three levels of service offer the right solution for any organization:
The way you manage Brokers / Advisors benefits is about to change.
Use Your Current System
You already have technology, but you need communication and enrollment support. Steele Benefits offers on-site one-to-one representatives and over-the-phone reps to help employees choose the best coverage for their situation.
Use Our System, Open Enrollment Only
You need technology, but not forever. Steele sets up an on-line enrollment for this open enrollment, and provides on-site, over-the-phone and online representatives.
Use Our System, Year-Round Services, ACA Services, Year-Round Call Center, Pre-Enrollment Engagement, Data Feeds
You need online enrollment, data feeds, payroll feeds, and a single database to manage new hires and life events. You may need help with ACA reporting, pre-enrollment engagement, and year-round engagement. You want on-site, call center, and/or self service benefit enrollment.
Selerix benefit administration software configuration and support.
Affordable Care Act reporting and filing  services.
Enrollment support by call center and/or on-site support.
SMS (text) messaging, quizzes, surveys, e-mail, posters, and/or video.
Sign Up For Our Newsletter
Get great deals sent directly to your inbox!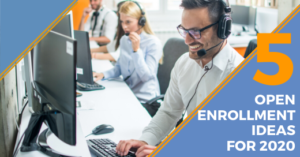 5 Open Enrollment Ideas for 2020 This year, in a world dominated by COVID-19 headlines, the way so many Americans do their work has changed. Will the new Zoom culture going away with an eradication of the coronavirus? Will your teams hang up Microsoft Teams when they get back to the office? It's too early to say. Indications…
For many organizations, the end of the fourth quarter marks the close of benefit enrollment season. Congratulations, you survived.  But as you know, you aren't done just yet. The new year brings new tasks and challenges for human resources. In this article, we will explore how benefit administration systems are taking away the pain of…
In the year 2004, most companies enrolled health insurance open enrollments on paper. At the time, that made sense! What Changed? First, there were not a lot of employee benefit systems that executed online enrollment well. That has now changed.  There are many good systems for employers to choose from. Second, systems were expensive to purchase…
What Our Clients Have to Say
Perfect!!!! You have saved me so much time!
- Megan Bell, Chief Financial Officer, New Castle School Corporation
Thank you! You do not know how much of a relief this was to not have to do this filing! You all are awesome.
- Dana Ochs, Payroll Officer, Jennings County Schools
Thank you, for all your help with this. This was a major help for me that you completed it. I am so very thankful you were able to complete this for Paoli Community School Corp! 
- Cindy Eubank, Deputy Treasurer, Paoli Community School Corporation
Mike – you the man – thanks for both the great work and getting permission to share the satisfaction!
We love the system and all it can do.  We love the quick response for Mike and Melissa on everything we need.  I wish all of our vendors were as thorough as Steele!
- Jill Britt, Director of Human Resources, Franklin Township Community Schools